Digital vignette and toll in Hungary
In order to be able to drive on motorways and expressways in Hungary, cars, trailers and mobile homes require a digital vignette, the electronic vignette e-Matrica. All Hungarian motorways marked with an "M" require a vignette for all vehicles. The digital vignette in Hungary is available online but also at selected points of sale. Trucks over 3.5 tonnes permissible gross vehicle weight (GVW) and trailers must purchase route tickets via HU-Go.
Vehicle classes of the digital vignette in Hungary
The system of different vehicle classes and their correct fee category is somewhat more complex in Hungary than in other European countries.
Special instructions for determining the correct fee category
The classification into the correct fee category depends on the entries in the registration certificate part 1. The following fields are of crucial importance: field "j": vehicle class, field "F.1": permissible total weight and field "S.1": seats including driver's seat.
Note
Vehicle class D1: Cars, mobile homes, and caravans of vehicle class M1 with a permissible gross vehicle weight (GVW) of up to 3.5 tonnes, with a maximum of 7 seats, including the driver's seat.

Vehicle class D2: Commercial vehicles with a permissible total weight of 3.5 tons. All motorhomes and caravans that do not belong to vehicle class M1 as well as cars with more than 7 and up to 9 seats, including the driver's seat.
Digital vignettes with different validity and digital route tolls
Digital vignette Hungary online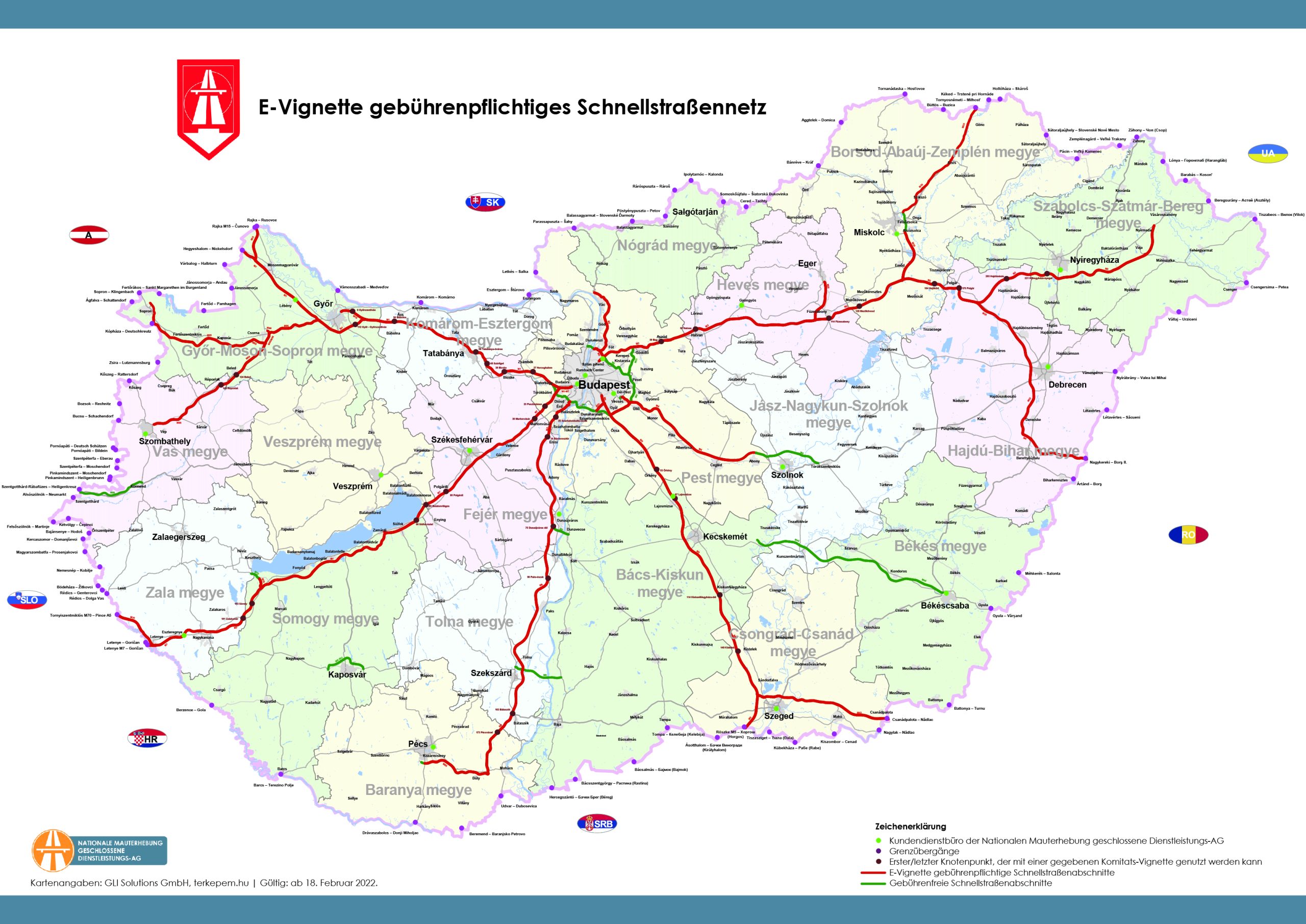 Source: Nationale Mauterhebung geschlossene Dienstleistungs-AG
Weekly vignette (for 10 days)
The Hungarian digital weekly vignette is valid for 10 days. The first day of the 10 days is the day of registration or purchase. It is valid until the same time on the day of purchase, on the last day of the term. You can buy the 10-day vignette quickly and conveniently online on our website. It is valid immediately.

Monthly vignette
The digital monthly vignette is valid from the day of purchase until midnight on the identical calendar day of the following month or until midnight on the last day of the month. This can be the case if the monthly vignette is purchased in a month with only 30 days and runs into a month with 31 days.

Annual vignette
The digital annual vignette can be used from the time of purchase or, if pre-sold in December, from the 1st day of the respective year until midnight on January 31st of the following year. You can buy the annual vignette quickly and conveniently online on our website. It is valid immediately.
Digital route toll Hungary online
The vignette requirement applies to motorcycles, passenger cars (including trailers), trucks with a maximum permissible total weight of 3.5 tonnes, buses and vehicles that are exempt from the toll requirement due to a special legal provision, and their trailers.
Digital vignettes and toll in neighboring countries
Learn more about digital vignettes and route tools in neighboring countries of Hungary.
FAQ
Here we answer all questions about digital vignettes in Hungary. What types of vignettes are there in Hungary? Is everyone digital? On which roads in Hungary does the vignette requirement apply? Your question could not be answered. then please contact customer service. We are here to assist you.